Find the guide for your next trip :
1. Find your guide
2. Contact and get a quote
3. Travel according to your wishes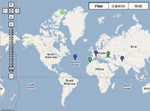 traveller's area

Login

Registration
Terms of service
Welcome to beoglobe.com! Before you begin using beoglobe.com, you must read and agree these beoglobe.com Terms of Service and the following terms and conditions and policies, including any future amendments
Definitions
Site : refers to the totality of the beoglobe.com site
User or You : The User is any person who uses the Site or one of the services offered by the Site.
Member : This term designates a User registered on Site's Traveller's area.
Guide : individual registered on the beoglobe.com site (in the Guide's area) to propose its tourist services with Users (cultural Guide, Driver-guide, etc).
Contents : refers to all beoglobe.com's site pages, including all files, texts, pictures and hypertext links.
Description of Service
The Service is accessible at no charge to any User with Internet access. Any costs related to accessing the Service, whether they be costs for hardware, software or Internet access, are solely the responsibility of the User. He or she alone is responsible for the proper functioning of his or her computing equipment as well as for his or her Internet access.
Beoglobe.com is an Internet site which principally allows
Guides to propose their services and activities by creating a web page Internet hosted on beoglobe.com
Users to search for tourist guides
Continuity of Service
Beoglobe administrators will use their reasonable endeavours to maintain the site in good working order. Beoglobe is a web site hosted by www.ovh.com. Performance and availability will clearly depend on the hosting services provided by ovh and other suppliers / sub-contractors.

Site use
The Site is mainly designed to provide access to Contents provided by and on the responsibility of registered Users (i.e. Guides and Members).
Beoglobe.com cannot guarantee the reliability and the exactitude of information found on the Site. We ask that you will use caution and common sense and exercise proper judgment when using beoglobe.com
You are fully responsible for checking information which You collect on the Site.
Whatever their nature, You are fully responsible for the direct or indirect consequences of using the Site and its Contents.
Creation or update of the Contents
You agree to be fully responsible for the Contents which you insert on the Site.
You agree not to post any abusive, obscene, vulgar, slanderous, hateful, threatening, sexually-oriented or any other material that may violate any applicable laws.
You agree all Content You insert in the Site is truthful, accurate and reliable. You agree not to insert misleading, false or deceptive Contents.
Beoglobe.com retains the right to suspend or to remove any Contents at our sole discretion at any time with or without notice.
Cookies
Beoglobe.com uses ''cookies''. A cookie is a text file that is placed on your hard disk by a Web page server. These cookies will contain no personal information and are only used to improve your comfort of use.
Confidentiality, private life
Beoglobe.com uses a database to store personal information you have entered on the Site. You can modify, correct or delete your personal information by logging into traveller's area or guide's area.
While this information will not be disclosed to any third party without your consent, beoglobe.com shall not be held responsible for any hacking attempt that may lead to the data being compromised.
Beoglobe.com reserves the right to disclose any personal information, including Users' IP address in the following cases:
To conform to any applicable law or regulation,
Within an investigation to find the identity of one or several Users who do not follow the Terms of service,
To make a complaint against one or several Users (for example: complaint against the User's Internet provider),
To institute proceedings against one or several Users.