Guide

Reviews

Contact - Get a quote

Nivori BOY
INDONESIA

Activities
Cultural tour guide
Driver-guide
Sport, nature and adventure guide
Trekking and mountain guide
Speaking languages
English, French, Dutch
Car
Mitsubishi L300 ou new Suzuki APV
Air conditioned : YES
Baby seat : NO
Interests centers
I like nature, people and its culture
I like music and I play guitar
I like football and I play it
Diploma, references, agreements
* Licensed Guide (qualified and certified by The Indonesian Ministry of Tourism and Culture)
* Member of The Association of The Indonesian Guides
* studied french in The University of Indonesia
* Studied english and Dutch independently ( autodidac )
* working independently
Services















Tailor-made tours, 4WD, Boat, Sailing boat, Family / Children, Culture, Gastronomy, Ecology, Elephant, Excursion / trekking, Mountain, Bicycle, Kayak / raft, Canyoning, Diving
Java:Visit Borobudur temple , Prambanan temple, sultan palaces, erotic temple, trekking to the volcanos:mount Bromo and mount Ijen., visit coffee plantation, clove plantation, rubber plantation, walking around the terrace ricefield and meet the villagers at their home, visit the traditionel market and see the exotic fruits, vegetables, spycies and see others beauty of Java.

(In Bali): take a balinese traditional boat to menjangan island for snorkling or diving, visit hot spring water, water fall, canoeing in a very calm lake ''tamblingan'', visit lake bratan, trekking in a huge terrace ricefield '' jatiluwih'' that is protected by UNESCO'', visit the centre of balinese art ''ubud''', do rafting in ubud, cycling, visit sea temple ''tanah lot''...and many others interesting places to visit....and others activities to do

Driving with a minibus ( with aircondition) for max 6 persons or with a medium bus for max 20 persons.

The price include: - a minibus with aircondition
- gasoline, parking and highway fee
- accomodation for guide/driver
- ferry boat from Java to Bali

The price exclude : - entrance fee
- your hotel,b'fast-lunch - diner
- your drink
- flight tickets , train's tickets
- empty run fee

The payment : 50% at first day and 50% at the last day
I can arrange the tours for 10days, 9days,8 days, 7days, 6days or only 5days
( depend on the duration of your vacation)

Activities, services on this tour:















Car, 4WD, Boat, Sailing boat, Family / Children, Disabled, Culture, Gastronomy, Ecology, Horse, Excursion / trekking, Mountain, Bicycle, Canyoning, Diving
Click on the links to locate positions

guide

The exotic of Java - Bali
Julien KORACH - FRANCE

2020-02-24 13:01 -


Nivory est chaleureux, cultivé, amoureux et fin connaisseur de Java et Bali, il est ponctuel, prévenant, toujours disponible, prêt à sortir du circuit imposé pour faire découvrir d'autres endroits qui n'étaient pas initialement prévus. Il nous a fait découvrir des warung dans lesquels nous ne serions jamais allés, appris des anecdotes locales, nous a épaulé lors de négociations sur les prix pour é...

Read more...

All reviews
Yoann FEDOR - FRANCE

2019-09-05 04:28 -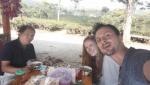 We are a french couple and it was our first time in Indonesia. We spent 6 wonderful days with Nivori in Java. Our goal was a trip through the Java island from Yogyakarta to Kawa ijen. Thanks to him, we visited some famous places like Borobudur, Prambanan and the Volcanoes Bromo and Ijen. But Nivori showed us some hidden jewels with a bike trip in the countryside, and with less touristic temples (...

Read more...

All reviews
Frederic MARCEAU - FRANCE

2018-09-25 21:10 -


Nous sommes partis de mi juillet à mi août 2018 .
J'ai contacté Nivori pour nous organiser un périple de 3 jours sur Java avec pour objectif de découvrir le parc Meru Beriti et le volcan Ijen.
Nivori n'était pas disponible donc il m'a proposé de louer 2 4x4 avec ou sans chauffeurs car nous étions 7 personnes.
Il m'a informé dès le départ qu'il n'y avait pas de climatisation et que les chauffeur...

Read more...

All reviews
Jean Claude MORENO - FRANCE

2018-09-16 17:07 -


On a réservé un tour de 7 jours avec Nivory Boy sur Java et Bali en août 2018.
Il nous a dit qu'il n'était pas libre mais qu'il nous confiait à un ami à qui il prêterait son véhicule climatisé.
Il a fixé le prix. On a accepté sans même négocier.
Le voyage n'a été qu'une succession de surprises désagréables et de mensonges finement amenés.
Le soi-disant ami chauffeur a été invivable. C'est arri...

Read more...

All reviews