Guide

Reviews

Contact - Get a quote
Amadou dit Omar THIAM
SENEGAL


WELCOME EXCURSION SENEGAL
WELCOME SENEGAL EXCURSION / WITH YOUR COOL GUIDE TOURISTIQUE AMADOU THIAM SAYS OMAR WHO WILL VISIT YOU THE COINS AND RECOINS OF SENEGAL COUNTRY OF THE ''TÉRANGA'' SENEGAL HOSPITALITY. YOUR GUIDE THAT WILL MAKE YOU DISCOVER THE REAL FACE OF RICH SENEGAL IN CROPS AND TRADITIONS, IN ALL TRANQUILITY, IN GOOD HUMOR AND IN ALL TRUST. YOU WILL RETURN UNFORGETTABLE SOUVENIRS. EMAIL: amadouomar@hotmail.fr TELEPHONE: +221 77 358 89 49.
My name is Amadou Thiam dit Omar tour guide and independent I was born on 15/05/84 in Thiès and I am based in a small coast Somone near Saly. I graduated from high school Malick Sy de Thiès level bac (study and sports: football) and I started this very noble profession of tourist guide that I love so much that allowed me to know my country and Make it discover to thousands of tourists.
I organize excursions from Saly, Somone, Mbour, Nianing and Touristic Tours, Hiking I come looking for you at the airport and I take care of everything.
Contact me by email: amadouomar@hotmail.fr or amadouomar.skyrock.com
Telephone: +221 77 358 89 49.
Activities
Cultural tour guide
Driver-guide
Sport, nature and adventure guide
Trekking and mountain guide
Speaking languages
English, French, Spanish
Car
Minu bus + 4x4 Pick-up
Air conditioned : YES
Baby seat : YES
Diploma, references, agreements
-
Services






















Tailor-made tours, Fixed date tours, Car, 4WD, Motor bike, Boat, Sailing boat, Family / Children, Disabled, Culture, Festival, Gastronomy, Fair tourism, Industrial tourism, Ecology, Wild animals, Marine animals, Horse, Camel, Excursion / trekking, Mountain, Bicycle, Kayak / raft, Fish
Contact
Contact - Get a quote
Address : amadouomar@hotmail.fr amadouthomar@outlook.com 81 Somone/M'Bour/Thiès SENEGAL
Phone :
+221773588949
Mobile :
+221779555682
Fax :
+34632744335
Click on the links to locate positions

guide
Claudia GIUGLIANO - ITALY

2017-03-13 10:28 -


Touristic guide very kind, professional and competent.
Omar made our tour of Senegal very interesting..raccomended!!!!10+


All reviews
Séverine GUYOT - FRANCE

2016-03-01 21:11 -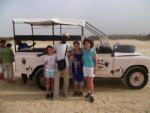 Super guide. Je suis partie seule avec mes deux filles et j'étais en sécurité dans toutes mes excursions avec Omar. Il choisit des chauffeurs très sérieux en voiture. Il nous a fait découvrir la pouponnière, la maternité, une école... tout ce que mes filles souhaitaient découvrir. Il répond à notre demande quitte à changer ses excursions type.


All reviews
Dominique CORDIER - FRANCE

2016-02-22 20:40 -


Omar guide sérieux a l'écoute avec sa gentillesse nous a fait découvrir une partie du Sénégal à un prix raisonnable toujours de bonne humeur il fait le maximum pour vous satisfaire et vous donne l'envie de revenir guide a recommandé
merci pour ces bons moments passés ensemble


All reviews
Séverine BOIN - FRANCE

2014-09-30 22:13 -


Un grand Merci à Amadou Thiam dit ''Omar''!
Tout d'abord les prix des excursions très compétitifs par rapport à l'hotel royal baobab.
Omar ne presse personne, nous avons pu à notre rythme découvrir le Sénégal au travers de ses excursions (nous avons un enfant de 5ans qui y a participé)....(Les iles du Saloum, la visite d'un village en pleine brousse où nous avons été très bien accueilli et b...

Read more...

All reviews
309.6km


Guides in Dakar

Senegal private guides

Senegal : private guides speaking English

Africa private guides