Guide

Reviews

Contact - Get a quote

Orah SOFER

ISRAEL

Licensed Tour Guide
I am a licensed tour guide in Israel, certified guide at the City of David, certified guide at the Temple Institute, and have many years of experience in tourism- Sailing boats charter- Airline flight attendant- Tours organizers and more.
We offer unique tours in the Land of Israel that feature amazing archeological, historical, and spiritually significant, touristic treasures of the Land of the Bible. Whether you are an individual, a couple, a family unit or with a group looking to experience nature, biblical history and discover ancient archeological ruins, we are confident that the richness of our programs will surely satisfy your expectations. We also organize VIP tours.
We are also specialized in day trips from Ashdod Port. We live in Ashdod and if you are arriving on a cruise, we will meet your ship at the Port for an exciting day to tour Jerusalem and other sites in Israel that you might be interested in, and will return you to your ship in the evening.
We favorize small groups for a better quality. You'll get the most out of your trip, learn much while relaxing. We'll take care of you as a family.
Come visit Israel the authentic: Yisrael ha Mekorit! www.israelrediscovered.com www.israelrediscovered.wordpress.com
Activities
Cultural tour guide
Driver-guide
Sport, nature and adventure guide
Trekking and mountain guide
Speaking languages
English, French, Others
Car
YES
Air conditioned : YES
Baby seat : YES
Interests centers
Archeology, Teaching, Bible, History, I love to teach and guide, passion for Israel, hiking
Diploma, references, agreements
Licenced Tour Guide from the Ministry of Tourism of Israel. Licence #10669
Certified guide at the City of David, Jerusalem
certified Guide at the Temple Institute, Jerusalem
License or certificate (click to enlarge)

Services













Tailor-made tours, Fixed date tours, 4WD, Boat, Sailing boat, Family / Children, Culture, Festival, Gastronomy, Ecology, Birdwatching, Camel, Excursion / trekking
Duration : 1 day
Level :

Medium
www.IsraelRediscovered.com
Specializing in small groups for better quality tours
Relax while Learning about History, Archeology, Bible and more!

The Old City of Jerusalem, the Temple Institute and the City of David each Monday!
"Whomever hasn't seen Herod's Temple, has never seen a beautiful building" Baba Batra 4a


We invite you to visit the Old City of Jerusalem through an historical journey that includes the period of the First Temple, Second Temple, the Byzantine period and a visit to the Temple Institute. We will end the day with the City of David, the heart of ancient Jerusalem, and the last archaeological discoveries.

Scheduled visits :

 Jaffa Gate
 Hezekiah's Broad Wall
 The Cardo
 The Temple Institute
 The Kotel
 The City of David

Lunch on your own in the Old City

7:30: Ashdod: Meet at the Central Bus Station
9:00: Jerusalem: Meet at Jaffa Gate

Registration: Shaul and Orah Sofer 054-2075313 or 054-7200018
contact@israelrediscovered.com

Activities, services on this tour:





Tailor-made tours, Fixed date tours, Culture, Unusual, Festival
Click on the links to locate positions

guide

Old City tour- City of David and Temple Institute
Audrey GERARD - BELGIUM

2013-07-03 19:01 -


un immense merci à Shaul pour la visite de Jérusalem!! visite personnalisée, pleine d'attentions et de partage. Shaul sait vraiment communiquer sa passion de l'histoire et de la terre d'Israël. Une journée captivante qui restera marquée dans ma mémoire. Je n'hésiterai pas à refaire appel à lui lors de mon prochain voyage en Israël.


All reviews
Jean-paul BALESTRIERE - FRANCE

2013-06-02 16:55 -


29/05/2013
merci pour cette magnifique visite de Jérusalem avec Shaul qui nous a captivé pendant une journée , ds connaissances en histoire remarquables , des attentions de tous les instants ,un amoureux de sa terre , une journée bien remplie de superbes paysages inoubliables.
merci encore
J.Paul Brigitte. Nice


All reviews
Jean Luc RENARD - BELGIUM

2013-05-21 08:26 -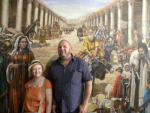 Nous avons passé une super journée avec Orah qui nous a guidés dans la vieille ville de Jérusalem. Elle a fait très attention à notre rythme et à nos demandes.
Nous avons eu beaucoup d'informations très enrichissantes.
Mon épouse et moi sommes enchantés de cette journée.
Nous ne choisirons pas d'autre guide qu'elle et son mari pour un autre voyage !


All reviews
Pascal PETREL - FRANCE

2013-05-14 17:52 -


La visite avec Orah nous a permis de faire un voyage dans le temps à Jérusalem. Sa connaissance de l'histoire et son aisance pour transmettre son savoir ont fait de notre journée un souvenir inoubliable. Avec toute notre affection. Pascal PETREL


All reviews
54.7km


Guides in Ashdod

Guides in Yavne

Guides in Ashqelon

Guides in Gaza

Israel private guides

Israel : private guides speaking English

Middle-east private guides