Guide

Reviews

Contact - Get a quote

Franckie RALAIALITIANA

MADAGASCAR
Activities
Driver-guide
Sport, nature and adventure guide
Trekking and mountain guide
Speaking languages
English, French
Car
Hyundai 100 , peugot 406 berline
Air conditioned : YES
Baby seat : YES
Services












Tailor-made tours, Fixed date tours, Car, 4WD, Motor bike, Boat, Family / Children, Ecology, Birdwatching, Wild animals, Excursion / trekking, Mountain, Canyoning
Contact
Contact - Get a quote
Address : 144B Ambohijanahary - Antehiroka ralaiaritiana_franckie@yahoo.fr franckie.guide@gmail.com 105 Antananarivo MADAGASCAR
Phone :
+261 20 26 30215
Mobile :
+261 20 34 10 93771
Click on the links to locate positions

guide
Raymond DUCASSE - FRANCE

2018-04-30 16:27 -


(en réalité l'étoile que j'ai mise est de trop car l'option zéro étoile n'est pas possible...)
Bonjour,
De retour de Mada, j'interviens ici pour alerter sur ce ''chauffeur/guide'' à éviter absolument. Les choses ont bien changé depuis ces derniers posts.
Pur escroc, qui ne pense qu'à vous soutirer le plus vite possible la somme convenue mais ce n'est pas tout : absent pour le circuit prévu il...

Read more...

All reviews
David J. - RÉUNION (FRANCE)

2014-07-07 20:33 -


Voyager avec Franckie, c'est l'assurance de visiter Madagascar avec un chauffeur prudent et un guide professionnel, ponctuel, toujours de bonne humeur et avant tout amoureux de son île.
Bon voyage avec Franckie !


All reviews
Clément CAREL - FRANCE

2014-05-16 15:25 -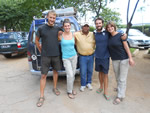 Franckie nous a aidé à préparer tout notre voyage, nous avons passés dix jours avec lui, super organisation! Il représente bien l'hospitalité malgache, un guide qui tiens la route! Grâce à lui, nous avons eu la chance de faire partie des rares personnes à découvrir l'Ouest du pays en saison des pluies. Encore un grand merci Franckie! A une prochaine.


All reviews
Julien RIDRE - BELGIUM

2014-05-05 11:27 -


Nous avons eu le plaisir de visiter Madagascar en compagnie de Franckie et ce fut une véritable chance pour nous. En effet, il fut continuellement aux petits soins nous faisant visiter l'ensemble de son pays avec passion, écoute et professionnalisme. C'est bien simple, nous comptons rapidement y retourner et qui plus est, en sa compagnie!
Carole et Julien


All reviews

Guides in Antananarivo

Madagascar private guides

Madagascar : private guides speaking English

Africa private guides