Guide

Reviews

Contact - Get a quote

Helinirina RAHAROMANANA

MADAGASCAR

The ideal guide to accompany you on your trip.
I'm a certified tour guide from the Malagasy National Department of Tourism Malagasy who has several years of experience with major agencies and local tour operators as a driver and accompanying guide. I have set up Madagascar Circuits Touristiques and I am working with several professional guides and drivers (local, regional, national and specialized) who know very well Madagascar, its customs, its beautiful scenery and idyllic corners. My team and myself would be very pleased to let you discover our beautiful country taking into consideration your wishes and ensuring the best quality price service. We can offer several types of circuits, river cruises in traditional canoe, excursions and tours à la carte according to the number of people (individual or groups) and stays fitting all budgets. My team is at your disposal to organise the circuit of your dreams. Don't hesitate to contact us, you will not regret it!
Activities
Cultural tour guide
Driver-guide
Sport, nature and adventure guide
Trekking and mountain guide
Speaking languages
English, French, Others
Car
Berline, Break, Minibus, 4x4, Bus, Espace
Air conditioned : YES
Baby seat : NO
Interests centers
My trades, Travels, Hiking in the Mountains and National Parks, Photography, Meet people, Petanque.
Diploma, references, agreements
A National Tour Guide licensed by the Ministry of Tourism and Malagasy who has several years of experience working with major agencies and local tour operators as a driver and guide.
MADAGASCAR Circuits Tours
Decision Number: 098 - 2010/MTA/SG/DGT/DNCS/GUIDE
Of December 13, 2010. MINISTRY OF TOURISM AND CRAFTS.
March 2007: Internship and Training on the Fauna and Flora of Madagascar organized by the National Institute of Tourism and Hospitality (INTH)
February 2010: Training on Technical Guidance organized by the National Institute of Tourism and Hospitality (INTH)
Several years of experience already working with agencies and local tour operator and independent now has been five years.
License or certificate (click to enlarge)
Services


























Tailor-made tours, Fixed date tours, Car, 4WD, Motor bike, Boat, Sailing boat, Family / Children, Disabled, Culture, Unusual, Festival, Gastronomy, Fair tourism, Industrial tourism, Ecology, Birdwatching, Wild animals, Marine animals, Horse, Excursion / trekking, Mountain, Bicycle, Kayak / raft, Climbing, Canyoning, Fish, Diving
DAY 1: TANA - AMPEFY
Departure by private car westbound on Rn1 half past two quiet road that crosses vast rice fields lined with traditional brick before sneaking between hills or wooded cracked Tapia, shrubs, fruit tart and refreshing and whose leaves are feed glasses silk premises, 125 km from Tana Analavory we turn left the RN 43 towards Ampefy night at the hotel.

DAY 2: AMPEFY - TSIROANOMANDIDY
Drive for about three hours drive towards the town of Tsiroanomandidy through the chutte the lily and the geyser andranomandroatra, picnic lunch, we arrive in the late afternoon in the city where walk to the biggest zebu night at the hotel.

DAY 3: TSIROANOMANDIDY - Belobaka - 30 TERMINAL
Departure from hiking two and a half days, early in the afternoon beginning of trekk accompanied by a local guide and mentor carriers, overnight in tents.

DAY 4 DAY 5: TERMINAL 30 - Ankavandra
Continued walking always accompany the guide and porters the road crews kitchen and evening are the ones who prepare the camp, in the late afternoon to the second day we reach trekk Akavandra night in a hotel the rustic shower bucket of water, a night's rest before the descent of the river.

DAY 6 DAY 7 DAY 8 DAY 9: DOWN THE RIVER Manambolo
Four days down and discovered on River Manambolo on a traditional pirogue, a canoe guide and they will do their utmost to make the trip unforgettable night in the bivouacs.Et denière days (J9) of the descent we reach afternoon at the foot of the Tsingy Bekopaka night at the hotel.
DAY 10: VISIT THE PARK
A day trip PNM Bemaraha (Tsingy), overnight at the same hotel.
DAY 11: BEKOPAKA - MORONDAVA
Early morning departure towards Morondava, through the love and Baobabs Baobabs Alley, overnight at hotel

Activities, services on this tour:









Car, 4WD, Culture, Gastronomy, Fair tourism, Ecology, Wild animals, Excursion / trekking, Mountain, Kayak / raft
DAY 1: Tana - Antsirabe - AMBOSITRA
Depart Tana South to the capital of Crafts Ambositra through the city Ambatolampy a visit handicraft workshop which manufactures aluminum cookware, and then continuation of the road and a small stop at Antsirabe a small tour of the city and water tour of small craft workshops (manufactures bicycle rickshaws and miniature art in zebu horn, a candy factory craft for small children who ask all the time the Vazaha), arriving late afternoon Ambositra, Installing the Artisan Hotel in Victor, or Mania.

DAY 2: AMBOSITRA - ANTOETRA COUNTRY ZAFIMANIRY - RANOMAFANA
En route to the discovery of a small country zafimaniry four-hour hike to and meetings with the villagers, and then on the road to Ranomafana, overnight stay or Manja Ihary hotel.

DAY 3: RANOMAFANA - VISIT THE NATIONAL PARK - AMBALAVAO
After breakfast, visit the National Park accompanied by a tour guide of the park and a reel for a circuit of four hours, then continue the road to Ambalavao through the wine cellar Lazan'I Betsileo a visit guide and tasting night at the hotel or Tsienimparihy The Bougainvillea.

DAY 4: AMBALAVAO - RANOHIRA (ISALO)
After visiting the surroundings of the town of Ambalavao continue the road to the south through a small park Anja village a visit to two hours and then continue the road to the village of Ranohira night at the Orchid Hotel Isalo or Isalo Ranch.

DAY 5: RANOHIRA - ISALO - TULEAR - IFATY
Visit the National Park of Isalo always accompanied by a park guide circuit (Namaza the cascade nymphs, black and blue pools), and then heading directly through Ifaty Tulear night at Chez Cécile beach or at Bamboo club.

DAY 6: IFATY
Day free to walk around possibiliter quiet in the park forest of Baobabs or small canoe ride or just lazing on the beach.

DAY 7: IFATY - TULEAR - TANA
Departure to Tulear airport for a direct flight on the home Tana Tana airport then transfer to Hotel St. Germain, or Sole Hotel.

Activities, services on this tour:








Car, 4WD, Family / Children, Culture, Gastronomy, Fair tourism, Ecology, Wild animals, Excursion / trekking
Click on the links to locate positions

guide

The Manambolo Rivers via Tsingy

The N7
Michèle CROCQ - FRANCE

2019-04-28 20:19 -


Grand professionnalisme, respect des engagements,
Connaissance approfondie du pays ,adaptabilité, réactivité. Quelques notions qui qualifient bien cette agence.
A recommander les yeux fermés.


All reviews
Mercè CAÑADA - SPAIN

2017-09-09 13:19 -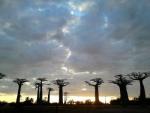 Después de comparar diferentes opciones nos decidimos por Helinirina Raharomanana Tours Guide porque fue la que más rápido contestaba, las mejores alternativas a nuestras propuestas, tanto en circuito como económicas. Una vez iniciado y en el transcurso de nuestro viaje de 23 días, los servicios recibidos (especial mención al nuestro conductor-guía Hary) han sido inmejorables, por incluso encima d...

Read more...

All reviews
Raquel CABRAL - FRANCE

2017-04-05 20:50 -


J'ai vecu 15 jours de reve avec une copine dans notre decouverte de madagascar....Merci beaucoup Nirina, sache que tu as une SUPER equipe avec toi!!!! Le programme qu'on a choisi a largement depassé nos attentes... Avec Manu (notre guide) et Raul (notre chauffeur) on a pu vraiment plongé dans la culture malgache, echanher avec les gens du pays, manger local (suuuuper bien!!!) Et le paysage superbe...

Read more...

All reviews
Nicolas SAUTRON-VALLON - FRANCE

2017-03-25 18:38 -


Le circuit dans le nord-ouest de Madagascar que Madagascar Circuits Tours nous a concocté, effectué en couple fin juin/début juillet 2016, nous a enchanté.
Tout au long de ces 14 jours, nous avons bénéficié de la bonne humeur et du sourire permanents de notre chauffeur et de nos guides, et de leur constant professionnalisme dans la préparation et le suivi des différentes activités. Nous avons ...

Read more...

All reviews

Guides in Antananarivo

Madagascar private guides

Madagascar : private guides speaking English

Africa private guides