Guide

Reviews

Contact - Get a quote
El Mustapha EL OUAKHOUMI

MOROCCO
Activities
Cultural tour guide
Driver-guide
Sport, nature and adventure guide
Trekking and mountain guide
Speaking languages
English, French, Arabic, Others
Car
YES
Air conditioned : YES
Baby seat : YES
Diploma, references, agreements
- National diploma of Mountain Guide, Morocco (1999);
- Licensed Mountain Guide;
- Created Terres Insolites en 2003
- Member of the ''Association Nationale des Guides et Accompagnateurs en Montagne du Maroc'' (national organisation of mountain guides and tour leaders in Morocco)
License or certificate (click to enlarge)

Services



















Tailor-made tours, Fixed date tours, Car, 4WD, Family / Children, Disabled, Culture, Unusual, Festival, Fair tourism, Ecology, Birdwatching, Wild animals, Horse, Camel, Excursion / trekking, Mountain, Bicycle, Climbing, Canyoning, Fish, Snowshoe , Ski touring
Click on the links to locate positions

guide
Patrice GERARD - FRANCE

2019-11-28 13:12 -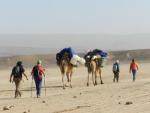 Novembre 2019 - La magie du désert avec ''Aventures insolites''. Que du bonheur ! Total dépaysement sous les acacias du Reg, les dunes, le soleil et le ciel bleu... mais surtout, les échanges, le partage, les rires avec Abdellah le guide, Houssen, le cuisinier, Ibrahim le chamelier... Organisation rodée, circuit bien construit et facile (4 h de marche par jour) paysages variés allant de l'oasis ju...

Read more...

All reviews
Alain PAGNAC - FRANCE

2018-04-07 09:50 -


Lors de notre premier séjour dans le Sud Marocain, il y a une vingtaine d'années, nous avions été interpellés par un couple qui réalisait le même périple que nous avec un guide. Nous avons finalisé ce projet cette année, pour un ''résultat'' bien au delà de nos espérances.
''Il n' y a pas de problème, que des solution'', ça pourrait être la devise de Mouss tant sa faculté d'adaptation est phénom...

Read more...

All reviews
CAROLE PCLS - FRANCE

2018-03-18 19:04 -


Our excursion, me and my friend to the Happy Valley, in the High Atlas with Mous was incredible!
Available, passionate and welcoming, he made us discover a magnificent desert in total immersion with the Berber culture.
Due to its professionalism and great adaptation to our desires, our adventure has been incredibly rich and we really wish to return to Morocco and discover with Mous, other places...

Read more...

All reviews
Maeva COSANDEY - FRANCE

2018-01-13 16:36 -


C'est une aventure irréelle que Muss et son équipe nous ont fait vivre .
Muss est un guide passionné et passionnant , et c'est avec toute sa spontanéité et son humilité qu'il nous à emmené à la découverte du désert, à la rencontre des nomades, au coeur d'une nature saisissante et de paysages surréalistes...
En toute simplicité, l'équipe nous a fait partager leur culture.
Ils nous ont accompagné...

Read more...

All reviews

Guides in Marrakech

Morocco private guides

Morocco : private guides speaking English

Africa private guides