Guide

Reviews

Contact - Get a quote
Ali BANANE
MOROCCO

Activities
Cultural tour guide
Sport, nature and adventure guide
Speaking languages
English, French, Spanish, Arabic, Others
Car
4x4
Air conditioned : YES
Baby seat : NO
Interests centers
My passion for the desert dates my childhood because it is the place where I was born and where I increased. Quite naturally I learnt to get acquainted with this environment which I know perfectly. I became an experimented guide, liking making share his culture and its lifestyle.
Diploma, references, agreements
-
Services









Tailor-made tours, 4WD, Family / Children, Culture, Festival, Fair tourism, Ecology, Camel, Excursion / trekking
Duration: 1 day and a half
Departure : M'hamid at 8:00 am
Return: 10:00 am the next day
Distance : 28 km env
This route begins with the end of '' the tarred road '', door of Sahara. Crossing of a hamada and small dunes. After a 3 hours walk, break with the mint tea. Arround midday, lunch under a big tamarisk. After noon, departure for the dunes of the Jew (a 2 hours walk). Bivouac by 80 m height dunes of sand, dinner with folk show (on inquiry). The next day, after breakfast, return to the village. For every hike, each person get's a dromedary. The camel drivers prepare the meals and set up camp during your moment's rest. Circuits are modifiable and adaptable on inquiry.

Activities, services on this tour:






Family / Children, Culture, Fair tourism, Ecology, Camel, Excursion / trekking
Duration: 4 days and 3 nights
Departure: M'hamid at 8:00 am
Back at 6:00 pm the 4th day

1st day: departure at about 8:00 am, direction Erg Ez-Zahar in the southeast. After a 3 hours walk, lunch by Race Nkhal.
At 3:00 pm let's go. After a 2 hours walk, bivouac and night by the beautiful dunes of Sidi Naji ( marabout).

2nd day: departure of Sidi Naji at about 8:00 am, a 3 hours walk, crossing a big stony plateau ( Hamada), and then, lunch in the shade of a tamarisk. Departure at 3 pm for two hours of walking, sunset in the '' howling dunes '', dinner and bivouac.

3rd day: after breakfast leaving to Lhdibate, 3 hours of walking, lunch. After noon departure for 2 hours of walking, dinner and bivouac in the Erg Smar.

4th day: departure after breakfast. After 3 hours of walking, lunch at Lbour. Departure at about 3 pm to get to M'hamid at about 6:00 pm.

Activities, services on this tour:






Family / Children, Culture, Fair tourism, Ecology, Camel, Excursion / trekking
Click on the links to locate positions

guide

Sahara hike

Erg Ez-Zahar hike
Adel SOFIE - DENMARK

2018-01-13 14:21 -


This trip was one of the best experiences of my life!
Ali was the best, funniest and most kind hearted person we could have possibly met.
The whole trip was so well planned and in such good company that we could have wished for nothing more than to do it again.
while in the desert we experienced both the beautiful dunes, riding camels sunsets in the horizon and falling asleep under a night s...

Read more...

All reviews
Martine LA - FRANCE

2014-05-09 21:31 -


J'ai eu la chance de rencontrer Ali dans son snack à M'hamid et j'ai découvert un Homme au grand coeur.Il est toujours disponible,il sait écouter,rendre service,et vous parle de son désert,de la vie et de l'histoire de son pays avec beaucoup de chaleur.Il vous communique sa force,son courage et sa passion. Avec le temps Ali est devenu mon Ami.
Je vous conseille de passer dans son village pour fai...

Read more...

All reviews
Laurent KOENIG - FRANCE

2013-03-08 22:10 -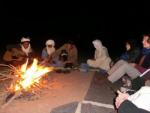 Ali est passionné par son métier.
Il se met en 4 pour vous faire découvrir sa culture, son pays, la vie dans le désert, l'histoire de ces lieux.
Il est aux petits soins pour que tout se passe bien. Vous perdez un sac? Sur son Son téléphone, il va convaincre un ami de faire des kilomètres pour retrouver votre sac et vous le ramener. Vous avez un peu mal, ou un coup de blues? Il sera là, à vous r...

Read more...

All reviews
Marielle MARTIN - FRANCE

2012-04-30 14:09 -


Avec 2 amies, nous avons fait une randonnée de 3 jours dans le désert guidées par Ali et accompagnées par Brahim le chamelier et musicien, Boujenah le cuisinier et 3 dromadaires.
Nous gardons un très bon souvenir de cette expérience, sans doute la meilleure que l'on ait vécue au Maroc. Nous avons bien profité et bien mangé, notamment du pain délicieux fabriqué sur place et cuit dans le sable. Al...

Read more...

All reviews

Guides in Zagora

Morocco private guides

Morocco : private guides speaking English

Africa private guides