Guide

Reviews

Contact - Get a quote
Mohamed BAHAA
EGYPT

Activities
Cultural tour guide
Driver-guide
Speaking languages
English, Spanish, Italian, Chinese, Arabic
Car
2014
Air conditioned : YES
Baby seat : NO
Diploma, references, agreements
Licensed Tour Guide , N# 4317 from Cairo
DOing Guiding from 12 years ago ...
with pleasure to show you Real Egypt from Egyptian eyes not from Tourist eyes ...
Services












Tailor-made tours, Car, Boat, Sailing boat, Family / Children, Disabled, Culture, Unusual, Fair tourism, Industrial tourism, Horse, Camel
Pyramids and Sphinx: one of the seven wonders of the ancient world the most famous structure in the world was built by king
Keops (IV Dynasty) a round 2650 B.C. on an area of 13 Feddans.
Sakkara: more ancient site than that of Giza temples spanning. A 3000 years period, Sakkara is the oldest ancient Egyptian cemetery.
It lies on a desert plateau, south west of Cairo above rises the step pyramid and mortuary compound, built by the engineer Imhotep for king Zosser the first of the III dynasty pharaohs.
If you like to visit Dahshour as well let us know ,,,
Activities, services on this tour:

Car
Egyptian museum, home to some priceless exhibits such as the solid gold funerary masks of king Tutankhamen and the royal mummies.
Old Cairo: Citadel, built by Saladin, Alabaster Mosque in Turkey. The Coptic area: the oldest part of Cairo. Coptic museum, hanging qurch, Roman towers of Babylon.

Activities, services on this tour:

Car
A full day trip to the charming city, situated on the Mediterranean, founded by Alexander the great. The city rivalled Rome during the reign of queen Cleopatra. Visit the catacombs of Kom El Shokafa, Pompeii's pillar and the Montazah palace. Wonderful beaches, cafes, souks and relics from a by gone age area highlight of Alexandria.

Activities, services on this tour:


Car, Family / Children
Click on the links to locate positions

guide

Cairo Desert Tour:

Cairo City tour:

Alexandria Day tour
Fabio VILELA - BRAZIL

2014-02-18 08:01 -


Sem palavras para descrever os serviços prestados pelo Mohamed Bahaa na minha viagem do Egito. Ele simplesmente organizou tudo, desde o representante para me pegar na porta do avião e me acompanhar na imigração até todos os tours e passeios no país. Tudo foi organizado por email e cumprido de acordo com o combinado. Os guias e os passeios foram simplesmente incriveis. Eles realmente sabem como agr...

Read more...

All reviews
Hataiwan MEEISSARA - THAILAND

2013-10-06 17:54 -


Another day that I use Mohamed Bahaa private tour guide. This is my first time to visit mosque. The mosque is very amazing, beautiful, huge and one of most unique. I also had Ms.Hoda as my personal guide, Mr.Abdullah as my driver. I felt 100% safe in this day and Mr.Mohammed even called a few times to check on us during the day. We also visit to Al-Azhar Park. It is very nice, relaxing, clean and ...

Read more...

All reviews
Vadim LAPINE - CANADA

2013-09-27 23:24 -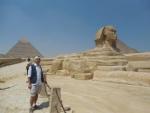 Just came back home from Egypt, and would like to share my experience in Cairo with Mohamed Bahaa Tours. I am so glad to come here now despite of all those horrors have been shown recently in the news about Egypt.
My experience was absolutely amazing, peaceful, and safe.
Everything was organized well. My guide was Ms. Hoda - very friendly, genuine, knowledgeable and sensitive to my interes...

Read more...

All reviews
Kristin YANKERHANSEN - UNITED STATES OF AMERICA

2013-08-14 21:32 -


The US media made Egypt sound like a very unwelcoming place for Americans. WE found the opposite to be ture. MAny people stopped us and welcomed us to Egypt. Our guide Hoda Hassan was amazing. She is extremely well educated in English Egyptian History, and CUlture, as well as politics which she freely discussed. WE also foudn our dirver Abdullah to be extremely competent in managing Egypts crazy t...

Read more...

All reviews
360.6km

360.6km
377.3km


Guides in Cairo

Egypt private guides

Egypt : private guides speaking English

Africa private guides